Vroeger hadden veel bedrijven een eigen gereedschapsmakerij voor hijsmiddelen of ze deden een beroep op een algemeen constructiebedrijf. Mennens neemt deze rol graag over!
Met de komst van de Machinerichtlijn volstond het niet langer om enkel een item te fabriceren. Er moest ook een volledig constructiedossier, met bijhorend certificaat en handleiding, worden opgesteld. De fabrikant neemt hierbij alle verantwoordelijkheid.
In deze podcast hebben we het over hijsbalken en spreaders en hun voordelen mbt het effectief inrichten van de werkomgeving.
Lifting beams
Many companies used to have their own tool-making shop for lifting equipment or called on a general construction company. Mennens is happy to take over this role!
With the arrival of the Machinery Directive, it is no longer sufficient to simply produce an item. A whole construction file has to be compiled, with corresponding certificate and handbook. The manufacturer is responsible for this.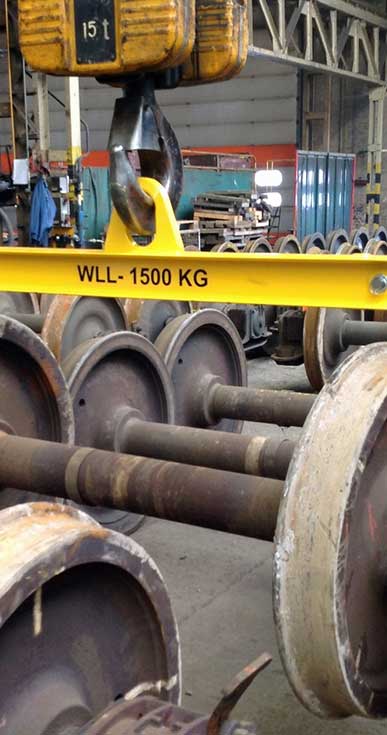 Lifting beams and spreaders are usually custom-made, calculated and constructed according to the customers' specific wishes. However, Mennens also has an extensive range of standard lifting beams and spreaders in various forms, with clamps and hooks. For modular spreaders, there are products of Modulift and OX. Of course, every lifting beam has a CE label, markings and a manual. Because safety is always the highest priority.

Special lifting tools? You've come to the right place at Mennens!
Special lifting tools are complete systems with magnets and vacuum equipment, but also specific tools that customers often design themselves. We recalculate their designs (and adjust them where necessary) so we can supply them with an appropriate CE certificate.
We offer a suitable solution for every situation because we handle a lot of creations ourselves.
On the Mennens website, you can find an initial selection of our lifting beams and accessories. Remember that the majority of our spreaders, lifting beams, frames, frameworks, etc. are custom-made.
Want to find out more? Contact your nearest Mennens branch.



Examples of lifting beams and accessories
Special lifting beam for a metalworking company. Mennens supplied a lifting beam for quick and safe loading and unloading of stacks of metal sheeting (max. 8 tonnes).
For many years, Mennens has been an official distributor of Aero-Lift, the worldwide specialist in the development and manufacture of vacuum lifters.
Lifting beam for train wheelsets. Unique lifting beam, specifically made to the size of the wheels so that the axles are not damaged.
Transscript podcast
---
00:00:06 Michel: Welkom bij een nieuwe Mennens video podcast. Tim, welkom nogmaals. We gaan het vandaag hebben over hijsbalken en spreaders. Met name over de voordelen voor de klant, het effectief inrichten van de werkomgeving, het efficiënt kunnen verplaatsen van lasten. Stel jezelf even voor: wie ben je en wat doe je?
00:00:26 Tim: Goedemorgen Michel, ik ben Tim. Ik werk bij Mennens Belgium als Technical Sales Engineer op de binnendienst in Zwijndrecht. Ik houd mij dagelijks bezig met staalkabel, maar ook special made hijstools zoals de hijsbalken en de spreaders waar we het vandaag over gaan hebben.
00:00:43 Michel: Mooi. Gelijk een vraag. Hijsbalken, spreaders. Waar moet ik aan denken? Wat zijn het? Wat kun je ermee?
00:00:50 Tim: Eigenlijk is een spreader of een hijsbalk een verzamelnaam voor speciale constructies die zich tussen de hijshaak en een bepaalde last bevinden. Er zijn enorm veel mogelijkheden. Er zijn enorm veel vormen dat dat kan aannemen. Op basis daarvan spreekt men over spreaders of over hijsbalken.
00:01:12 Michel: Waar begint dat? Wanneer weet je wat je moet aanbieden? Wat voor soort vragen heeft een klant?
00:01:20 Tim: Vaak heeft een klant een bepaalde last die hij moet gaan manipuleren. Is het hijsen of is het heffen? Vaak is dat met een vorkheftruck of met een kraan. Dat is niet altijd makkelijk om die kraan of die vorkheftruck direct aan te gaan slaan aan uw last. Dan heeft men een hulpmiddel nodig om die verbinding te gaan maken. Een hijsbalk bevestig je rechtstreeks in de kraanhaak. Dan komen er allerlei verbindingen naar beneden zoals ketting of kabel of polyester stroppen, om uw last te gaan aanslaan. Bij een spreader is het gelijkaardig, maar bevestig je de balk niet rechtstreeks in de kraanhaak maar is er bovenaan een ketting, tweesprong of viersprong, voor iets meer stabiliteit, om iets meer evenwicht te gaan hebben.
00:02:11 Michel: Zijn er verschillende typen beschikbaar? Iedere keer wat anders?
00:02:16 Tim: Zeker. Eigenlijk vraagt elke toepassing zijn eigen hijsbalk om gebruikt te worden. Er is heel veel maatwerk. Al onze hijsbalken zijn maatwerk. Dus om te zeggen dit is standaard, is heel moeilijk. Het is toepassingsafhankelijk. Je hebt wel een paar standaardvormen, eigenlijk een hijsbalk die je kan verstellen op verschillende maten. Als je een balk van twee meter hebt, is dat voor de ene klant handig om te werken, maar voor de andere klant net niet handig om te werken. Of de ene klant wenst een hijsbalk om in de kraanhaak te bevestigen, de andere dan weer een spreader. Zo heb je enorm veel mogelijkheden. Eigenlijk is het als een grote meccano.
00:03:02 Michel: Hoe verloopt zo'n proces van aanvraag tot montage?
00:03:07 Tim: De klant contacteert ons via mail of via telefoon of vraagt een plaatsbezoek aan bij complexe situaties. Dan proberen we eerst en vooral in kaart te brengen wat de klant met het product wil gaan doen. Wat moet hij gaan manipuleren? Op basis daarvan gaan wij kijken met de fabrikant, met engineering, wat voor balk hebben we nodig? Kunnen we met een standaard materiaal aan de slag of moeten we op maat gaan engineeren? Beide behoren tot de mogelijkheden. Wordt er een voorstel gemaakt naar de klant, een budget opgegeven. Als die zegt, ik kan mij daarin vinden, gaat de engineering verder aan de slag voor een tekening ter goedkeuring op te maken. Gaat die ook naar de klant, die controleert intern of het past in zijn kraanhaak, of het past aan zijn last. Eens dat oké is, wordt de fabricage opgestart. Dan is er de mogelijkheid om het ook te keuren door een EDTC bij ons, en dan gaan ze richting de klant dat ze het direct kunnen gebruiken.
00:04:19 Michel: Oké, helder. Je hebt het over keuren, dat doe je door, wat zei je nou?
00:04:24 Tim: EDTC. Externe dienst voor technische keuring.
00:04:28 Michel: Dat is de wetgeving in België begreep ik. Qua onderhoud van een hijsbalk of spreader, hoe gaat dat in z'n werk? Doen jullie dat ook?
00:04:39 Tim: Op zich is daar heel weinig onderhoud aan. Normaal gezien hangt dat in je hijsbal in uw kraanhaak of staat het opgesteld tijdens gebruik. Moet je ervoor zorgen dat je het natuurlijk niet beschadigt. Maar voor de rest qua onderhoud moet je zien dat alle componenten-- Als er kettingmateriaal opzit, dat dat goed onderhouden blijft en dat dat vervangen wordt als het beschadigd is. En dat het ook driemaandelijks gekeurd wordt omdat het een hijstoestel is.
00:05:09 Michel: Lever je naast de hijsbalken of spreaders ook andere producten? Een haak, kabel?
00:05:21 Tim: Alles wat op maat gemaakt moet worden voor te gaan hijsen, hebben wij mogelijkheden toe. Als je bepaalde aansluitingen hebt op een toestel waar je niet met een gewone standaard hijshaak kunt bevestigen, waar je een speciaal type van haak moet gaan ontwerpen om toch ergens over te gaan passen. Dat zijn ook allemaal mogelijkheden dat wij met onze engineering dienst kunnen bespreken waar we een ontwerpje van kunnen maken. Het voordeel is dat het altijd CE gekeurd is, dat het met de nodige berekeningen is, dat het met de nodige certificering is, dat je daar geen problemen mee hebt naar gebruik.
00:06:02 Michel: Heb je een mooi praktijkvoorbeeld van een moeilijke case, lastige vraag?
00:06:09 Tim: Zeer veel bij de zware industrie. Wanneer ze onderhoud moeten gaan doen op
bepaalde machines, heel oude machines die vaak opgebouwd zijn na verloop van tijd bij een herstelling of bij een onderhoud. Vaak moeten delen van die machines gemanipuleerd of gereviseerd worden. Daar heb je niet standaard hijsogen op, of gemakkelijke plaatsen om die te gaan manipuleren. In zulke toepassingen is het wel handig om een hijsbalk te gaan gebruiken of een spreader om het voor de mensen veilig te houden om die te gaan manipuleren of te gaan oplezen.
00:06:47 Michel: Goed. Ik weet meer over hijsbalken en spreaders. Ik hoop jullie ook. Heb je nog wat aan te vullen? Waar kan men terecht als men een dergelijke vraag heeft?
00:06:57 Tim: Je kan altijd Mennens België contacteren via de website of via e-mailadres sales@mennensbelgium.be. Twijfel niet met jullie vragen door te sturen. We denken graag mee met de klant om een op maat gemaakte toepassing aan te bieden. Het zijn geen standaardproducten. We werken op maat van de klant. We luisteren ernaar en het staat niet in steen gegrift, er is heel veel mogelijk.
00:07:25 Michel: Mooi! Dankjewel voor jouw informatie.
00:07:28 Tim: Dankjewel, Michel.