Pure tensile force up to 14,000 kN!
All Mennens sites have a tensile testing machien. Our site in Dongen has a tensile testing machine that can handel 14 000 kN without hassle. Perfect if you want to carry out some tensile tests. With this recently modernised tensile machine you can test:
Anchors
Blocks
Round slings
Fastenings
Lifting beams
Chain slings
Steel cables
…

Take a look at ProofloadTesting.com.
Safety guarantee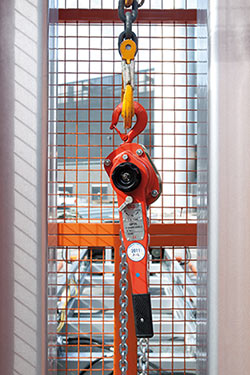 The tensile testing machine makes it possible to (re)test the very heaviest straps, anchors, blocks, beams, steel cables, etc. for the desired values. These include tests for national or international approval certificates. Mennens' specialists are already carrying out the legally required tests to a high level of accuracy. There clearly is a demand for this because they are also used by international classification agencies, including:
Lloyd's Register of Shipping
Bureau Veritas
DNV (Det Norske Veritas)
Germanischer Lloyd
ABS (American Bureau of Shipping)
R.I.N.A. (Registro Italiano Navale)
USSR Register of Shipping
Every branch has a tensile testing machine
The fixed tensile testing machines in our branches are multifunctional and fitted with the most modern equipment.

Mobile tensile testing machine
To provide the best possible service, the Mennens Group has several mobile tensile testing machines. With this high-tech equipment, we can inspect, check, and test your lifting equipment at any location. An immediate advantage of this is that your installation won't come to a standstill for longer than necessary.
Would you like to use the mobile tensile testing machine? Contact your nearest Mennens branch. Make sure you also take a look at proofloadtesting.com