General:
The current conduction of the Multiconductor to the device to be fed is effected through the collector trolley. The contact with the flat copper conductors is maintained uninterruptedly by means of flexible, extreme wear-resistant carbon brushes manufactured from a specific bronze-coal alloy. The collector trolley is pulled into the Multiconductor by the moving machine to be fed and by means of a trolley towing arm mounted onto this machine. The uninterrupted copper conductors of the Multiconductor system ensure extreme high traverse speeds. For higher traverse speeds, for heavy duty and/or for dusty environments the collector trolleys are fitted with dust proof, ball bearing wheels. Multiconductor collector trolleys are availabIe for range 2 to 7 conductors with current carrying capacities of 35A, 70A and 100A (D.C. 60%) or 27,11A, 54,22A and 77,46A (D.C. 100%). Applicable from -20°C (types ../LT from -30°C) up to +80°C.

Carbon brushes:
The collector trolleys are supplied as standard with carbon brushes for 35A, positioned according to the table below. The brushes in positions 4 and 5 are both fitted as double brushes ("twin brushes"). Twin brushes are smaller than the others and their capacity is 35A per set. Advantages of this construction are a perfect balanced collector trolley and an improved transmission of control signals.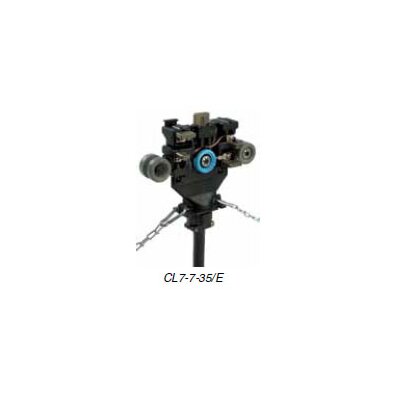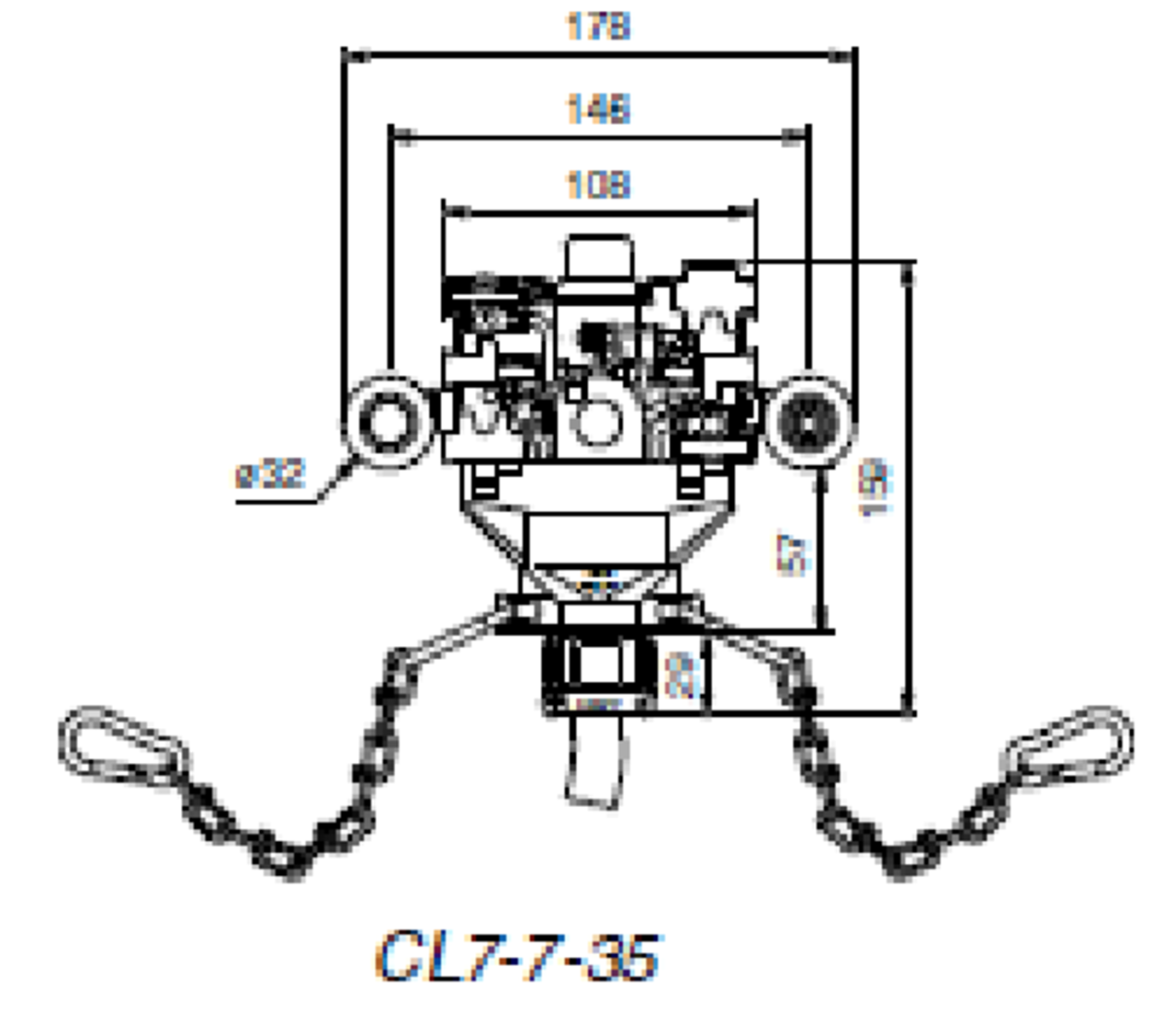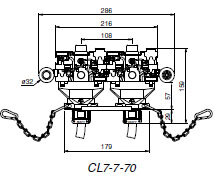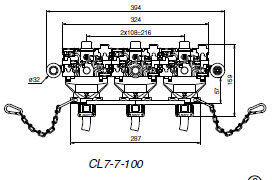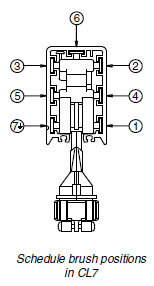 Currently this product cannot be added to an online quote. Please contact us directly for enquires.
| | | | | | | |
| --- | --- | --- | --- | --- | --- | --- |
| Selection chart of standard collector trolleys + transition boxes | | | | | | |
| A max. | 35 | | 70 | | 100 | |
| number of poles | type trolley | type trans. box | type trolley | type trans. box | type trolley | type trans. box |
| 2 | CL7-2-35 | TTB35-4 | CL7-2-70 | TTB70-4 | CL7-2-100 | TTB100-4 |
| 3 | CL7-3-35 | | CL7-3-70 | | CL7-3-100 | |
| 4 | CL7-4-35 | | CL7-4-70 | | CL7-4-100 | |
| 5 | CL7-5-35 | TTB35-7 | CL7-5-70 | TTB70-7 | CL7-5-100 | TTB100-7 |
| 6 | CL7-6-35 | | CL7-6-70 | | CL7-6-100 | |
| 7 | CL7-7-35 | | CL7-7-70 | | CL7-7-100 | |
When application of 2 or 3 separate collector trolleys per apparatus to be fed (e.g. for transfer installations), the following
transition boxes are used:

Number of trolleys

type trolleys

type transition box

2 collector trolleys

CL7-2 up to 4-35

TTB70-4

2 collector trolleys

CL7-5 up to 7-35

TTB70-7

2 collector trolleys

CL7-2 up to 5-70

OG200-5

2 collector trolleys

CL7-6 up to 7-70

OG200-7

2 collector trolleys

CL7-2 up to 4-100

OG300-4

2 collector trolleys

CL7-5 up to 7-100

OG300-7

3 collector trolleys

CL7-2 up to 4-35

TTB100-4

3 collector trolleys

CL7-5 up to 7-35

TTB100-7

3 collector trolleys

CL7-2 up to 4-70

OG300-4

3 collector trolleys

CL7-5 up to 7-70

OG300-7
Carbon brush types

standard carbon brushes

silver graphite brushes*

application

brush position in collector trolley

art.no.

for normal conductors

art.no.

for silvered conductors

Phase brush** norm.

1,2,3 en 6

1411021

K91P

1412221

KZ91P

Phase brush** twin

4 en 5

1410601

C91D

1410621

CZ91D

Ground brush

7

1410521

C91A

1410531

CZ91A

* Silvergraphite brushes are softer than the conductors
** Also suitable for DC