General: AKAPP mobile pendants have been developed specifically for cranes requiring remote pendant control, therefore allowing the crane operator to work from a safe position.

Available are:

Mobile pendant with terminal box, SBWK150G:
The box is provided with a cable gland PG48 for the flat cable(s) to enter. A cable gland PG21 at the bottom allows entry for the pendant cable (see mounting diagram). This is usually a round cable with 2-sided integrated steel wires. A strainer wire termination is included. The terminal box is connected to the two suspension trolleys by means of swivels. This allows the terminal box to swing without affecting the movement of the trolleys. This mobile pendant can optionally be fitted with a brake unit, activated by means of a towing chain.

Mobile pendants with plug/socket, SBWS150M:
The zinc plated steel chassis is provided with a socket (either 16 or 24 terminals) and a cable gland for flatform cable. This cable can easily be connected to the terminals.The pendant cable is to be connected to the 16- or 24-polige plug. A terminal for the strainer wires is provided. Making the connection between the pre-wired plug and socket is fast and easily done. After that, the combination can be double locked to prevent unexpected loosening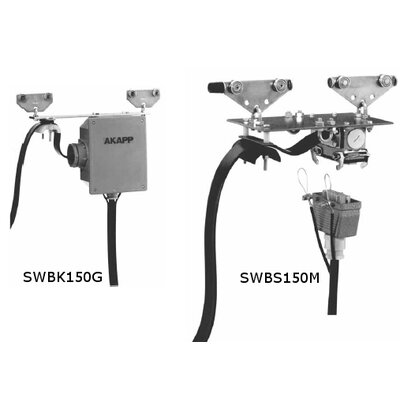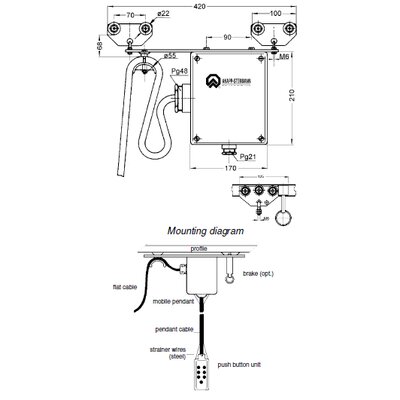 Currently this product cannot be added to an online quote. Please contact us directly for enquires.